If you are looking to hire someone to fix, clean or repair your clock, please take a minute to check out what actual customers have to say about the service they have received. Unfortunately, there are some who claim they fix clocks when they really only take your hard earned money, provide shoddy service and excuses. Perfect-Time Clock Repair has an excellent reputation for being the best clock repair business when it comes to fixing grandfather clocks, cuckoo clocks and others. Don't trust your family heirloom to someone who has zero online reviews.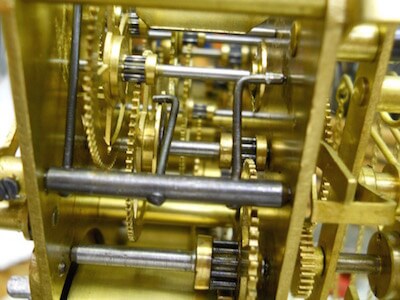 How Would You Rate Our Clock Repair Service?
Client Testimonials
Trust the expert
Perfect time clock repair is PERFECT. They are considerate, professional, caring and you may trust them to do the best job. There is no reason to look elsewhere for Erics excellent service
Nick H (West Bloomfield MI)
How lucky we were to find Eric
We recently inherited our family's grandfather clock that had not worked for the last 7 or 8 years. It was within minutes of greeting Eric in our home that we knew we had chosen a true professional. After briefly looking over the clock and a few basic questions, Eric went to work. In short order he removed the entire movement and after careful examination explained in detail what the problem was, and why it happened. He was able to free the frozen movement, clean and lubricate all necessary parts and even had a replacement part in his tool case that was needed. After putting everything back together and then balancing the clock, we were able to hear the familiar tic-toc and chimes again. Thank you, Eric.
Katie R. (Commerce Township, MI)
I love my cuckoo clock now that it is working thanks to Eric
I had an unusual situation with my cuckoo clock. I've had my clock for two years and a few times the pendulum stopped swinging and I was unable to get it to continue to swing right away. The other times this happened, I was eventually able to get it going again but not this last time so I took it to Eric. He was not able to find anything wrong with my clock but gave some advice as to why it may have been happening and it is working now. I love that he was so honest with me and because he felt he didn't do anything, he did not charge me. Even though he did not charge me I felt he deserved something for all his time so I gave him a small token of appreciation. I would recommend Eric for all your clock repairs, he is a good, honest man.
Thank you Eric.
Theresa from Canton
FINALLY, A CLOCK REPAIR SERVICE I CAN TRUST
I have used this company and Eric for years on all of my clock repair needs. You will find that they are complete and thorough and very responsive to your needs in a confident Factor. Each time that he has visited he has repaired the problem quickly and very affordably. I would recommend them over any clock repair service in the area. And never leaves until I have a full explanation as to the work that he completed. Do not hesitate to call them and you will find that you will be most satisfied and glad that you did.
DAN V.....BLOOMFIELD, MICHIGAN
Inheritance Saved!
Eric was fabulous!! He really is an expert clock repairman. I inherited a wonderful grandfather clock that I wanted to preserve. I wasn't sure who to call to trust, but with some wonderful recommendations, I found Eric and Perfect Time . He came on time, explained everything in detail, gave me is card and said if I had ANY questions, to give him a call. He was in/out in about 1 1/2 hours and my clock is now working wonderfully. Worth every penny to preserve history and my fiancee's wonderful clock. An awesome job! I would highly recommend Eric for any repair you may have or even if it is for a twice a year maintenance. You won't be sorry.
Vicky L. (Waterford, MI)
First experience was enough…
I'm old school, Eric (the master of the company) is old school when it comes to repairs old classics. When I was waiting my turn, he was dealing with another customer. After the customer asked an obvious question, Eric was quick to rate the question, but in a respectful and witty way.
When I attempted to describe my request; 'Say no more", he was quick to assure me that he knew exactly what I needed and informed me he'd take care of it. He disappeared behind the curtain and within a minute he returned with exactly what I DID need.
I'm an amateur "messing" with clocks. But I know he is a real expert when I meet him. If I needed a fix; if he said he could do it – I wouldn't doubt it for a moment.
Lived in L.A. for 40 years. I cannot imagine central casting could come up with a better character for a "little, old clockmaker". No disrespect, I'm 75 myself.
Thanks,
Will The Elder (Ferndale, MI)
grandfather clock. the best *****
Eric, of Perfect Time did an excellent job repairing my grandfather clock. If your looking for a clock repairman who is honest and do what he says. He is your man to fix your clock. 5.0 star rating
Richard G
Fixed my Grandfather Clock. Pure Perfection!!
What work. What a job. What a craftsman!!
Eric fixed my grandfather clock that I purchased some twenty years ago as a centerpiece for our Great Room in our West Bloomfield condo. His work is indeed a craft. Indeed, he is an artisan, a walking encyclopedia of clock repairs. He knows his trade inside and out, backwards and forwards.
He not only a gentleman, always courteous and welcoming questions, he is a perfectionist, focused on detailed repair and outstanding customer service. Plain and simple: It doesn't get any better. He has earned a customer for life.
Joel F. (West Bloomfield, MI)
fixed my mantle clock
Eric came to my house and made my clock happy again. It had not been working for several years and within minutes it was chiming. He checked on it the next day and we did a little adjustment and I'm thrilled to have my clock working again. It has been in my family for at least 100 years and my deceased mother would be pleased to know how much I care for it.
Julie H (Bloomfield Hills)
Grandfather Clock back up and running!!
I live out of state and was visiting my mother in Lake Orion and noticed her German grandfather clock (similar to a Howard Miller mechanism) wasn't working properly. I got on the internet and noticed Perfect Time had 17 positive reviews and no negative reviews. I called on a Friday and Eric came out the next day so he could meet me before I left for Boston. He was a perfect gentlemen and had the clock running within two hours. Eric is very patient and explains the inner workings of a clock in layman's terms. I recommend Eric for any clock repairs you may encounter.
Greg D. (Lake Orion, MI)
Got My Grandfather Clock Working Again
My grandfather clock is approximately 35 years old, and had virtually stopped working. I needed someone to repair it, but was hesitant as to who to call. I read the reviews about Eric at Perfect Time Clock Repair and decided to go with them.
What a perfect choice! Eric was wonderful diagnosing the problem and then repairing my clock. It is back running and chiming. I couldn't be more pleased.
Sue - Warren, MI
Job well done on my pride and joy
Perfect clock did a wonderful job on repairing my clock. Thanks Eric job well done.
Syd (Southfield, Michigan)
Repaired our grandfather clock
The repairman arrived at our home on time and repaired our clock efficiently. He explained technically what the clock required to work properly and what service would be advised for the future operation of the clock. In the meantime we have a working clock that we love.
John - Farmington Hills
100 YEAR OLD CLOCK IS ALIVE AND TICKING!!!
Am delighted with the service provided by Eric. Our old clock has been silent for years, and with much gratitude to the expertise service provided, it once again is chiming and the frozen pendulum is ticking perfectly.
I was happy to learn the proper care of this heirloom and so many tips Eric shared with me. Thank you so much for your expertise! Such a gift to have this 100 year old German grandfather clock, brought here from Sweden 4 generations ago to once again be brought to Life!
Many Thanks!
Janet L. from Southfield, MI
Fixed our time clock
Eric showed up on time and fixed our employee time clock very quickly. He is very professional and knows what he is doing.
Doug in Warren MI
Outstanding Clock Service
Eric, from Perfect-Time did an awesome job fixing our clock
Karen F. (Troy)
FIXED MY GRANDFATHER CLOCK
HI,
THANK YOU SO MUCH FOR FIXING MY GRANDFATHER CLOCK. I JUST WANTED SAY THANK YOU AGAIN AND ALSO MY HUSBAND HAS A PERSON WHO COULD INSTALL AND MAKE THE GLASS FOR MY GRANDFATHER CLOCK.
THANKS AGAIN.
JEAN S. (Sterling Heights)